Father Thaddeus Barttro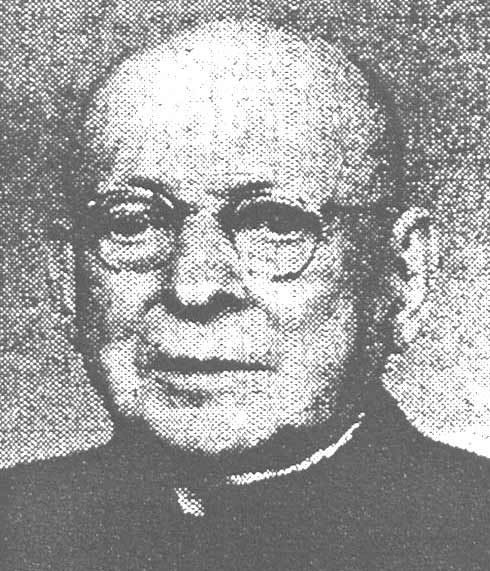 Father Thaddeus Barttro, who died September 22 at St. Margaret Hospital, Kansas City, Kansas. For 22 years before his retirement in 1956 he served Holy Trinity parish. He was 82
Thaddeus Barttro was born in Randolph, Vermont and was the son of Junius Barttro and Mary Cecilia Wells. Junius Barttro was the son of Lewis Barttro (Louis Berthiaume) and Julia Bliss (Julie Duplessis dit Sirois). Reference the article, "Lewis Barttro: A Vermont French-Canadian in the Civil War", which was printed in LINKS, VOL II, No. 2 (Spring 1998); and also the American-Canadian GENEALOGIST, Volume 20, Number 4, Issue 62, Fall 1994.
Junius Barttro was born on 4 January 1855 in St George, Vt and died on 26 December 1926. His wife Mary Cecelia Wells was born on 15 September 1866 in Randolph, Vt and died on 14 January 1947 in Winooski, Vt. They were married about 1883. Their children were;
1. Thaddeus born 01/28/1884 in Randolph, Vt
2. Arthur W. born 01/??/1885 in Royalton, Vt
- Wed to Cordelia Cabana on 01/08/1914 at St. Joseph Church, Burlington, Vt
- Lived in the Springfield, MA area
3. Mary R. born 07/06/1897 in Braintree, VT , and died in 1941
- Wed to Clifford Pinney Bacon on 11/11/1920 in Springfield, Vt.
Junius funeral was at the Cathedral and Mary Cecelia's funeral was at St Joseph's Church and they are buried in the St Joseph, Mount Calvary cemetery. Mary R. Bacon and her son Clifford Thaddeus are also in the same burial plot.
Grandson of Lewis and Julia Barttro
Father Thaddeus Barttro was the grandson of Lewis and Julia Barttro. Louis and Julia had nine children at the time that Lewis joined the Civil War effort as a member of the 13th Vermont Regiment which played a pivotal role in the battle of Gettysburg, PA. They later added another nine children to the family and lived most of their life at Fays Corners in Richmond, Vt., and then in Burlington as parishioners of St Joseph Church. They celebrated a grand 50th Wedding Anniversary on 23 September in Richmond in 1899, and also their 60th anniversary in Burlington in 1909. Thaddeus' parents were at the 60th anniversary and Thaddeus may have also attended. He may also have attended the funeral's of his grandparents in 1911 in Burlington, the year that he graduated from college with a Batchlors Degree. This young Vermonter enbarked on a religious career and was to serve the Diocese of Leavenworth, Kansas for 55 years and only returned to Vermont for the death's and funeral's of his parents, Junius in 1926, and Mary in 1947. He is buried in Kansas where he dedicated his entire life in the service of God. The following articles tell the story of his life very well, so I will not attempt to blend or weave it into one story, but let you enjoy how others saw and praised his life and efforts.
Following is the 1900 Census of Braintree, Orange County; near Randolph, Vt.


Note that their names are quite different than they used later;
Junius - He later used Eugene sometimes
Celia M. - Later used Mary Cecelia
Felix F. - Later used Thaddeus
Arthur W. - Later used Arthur Willis and William A. Berthiaume
Regina M. - Later used Mary
The Western Spirit, Paola, Miami County, Kansas (assumed)
NEW CATHOLIC PASTOR
Reverend Father Thaddeus Barttro, of Ottawa, Kansas, succeeds Father A. J. Domann as priest of the Holy Trinity Catholic church in Paola, on May 1st, 1934. Father Barttro was for 16 years in charge Sacred Heart church at Ottawa, Kansas, where he was very successful and dearly beloved.
Born in Randolph, Vermont, January 28, 1884, for nearly 20 years Father Barttro has been a pious, constant and industrious worker in this, the Leavenworth diocese, now presided over by the Right Reverend Bishop Johannes, of Kansas City, Kansas. Before entering the priesthood, he taught in the public schools in his native state, and, after many years in various Catholic colleges, he took his final course in St. Bonaventure University, in the state of New York. He is a progressive, patriotic American, small of stature but big of mind, and gifted with a pleasing personality.
Seventy-Fifth Jubilee of Holy Trinity Church
A PAGENT
"Our Cradle Land"
PAOLA AND ENVIRONS
October 10, 1935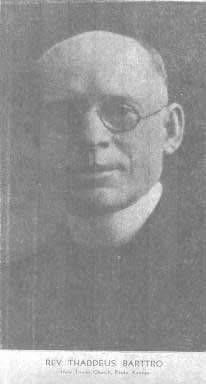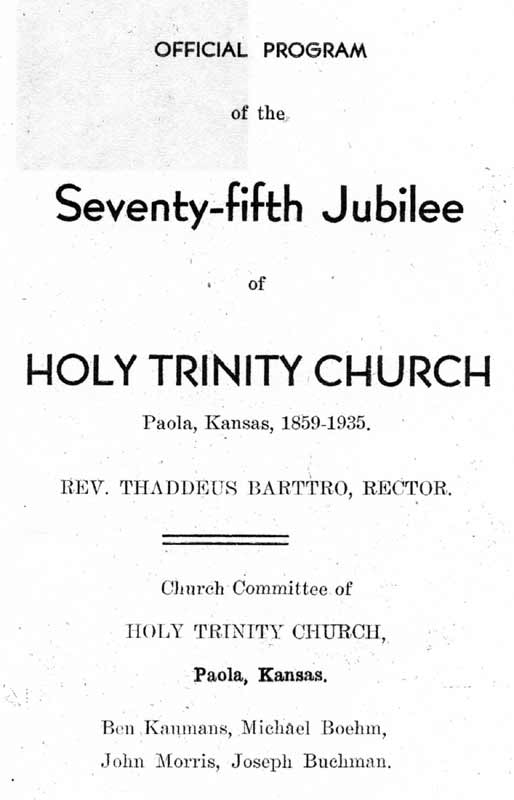 Jubilees
Father Thaddeus Barttro, during his pastorate, celebrated the Diamond Jubilee of the Catholic church in Paola, dating it from the time when the first church was begun by white settlers in the area. The parish celebrated it's 75th Anniversary with a Pontifical High Mass in the church and a total-parish pagent in the Paola park. The pagent portrayed the history of the church in Miami county for 75 years and marked the passage of years for a dedicated people in their efforts to praise God in a worthy manner.

Burlington Free Press, 30 December 1926
Funeral services for Junius Barttro were held yesterday morning at nine o'clock in the Cathedral of the Immaculate Conception. The very reverend J. F. Gillis sang a solemn high mass of requiem with the Rev. P.A. Barry assisting as deacon., and the Rev. C.F. Reagan as sub-deacon. Present in the sanctuary were Mr Barttro's son, the Rev. Thaddeus Barttro of Ottawa, Kansas, the Rev. F.A. Welch of Richmond, and the Rev. T.J. Liddy of Randolph. Clarence Christmas, Leo Dumas, Gerald Zeno, Maitland Root, Charles Martelle and Junius Root were the bearers. Burial was in Mount Calvary cemetery where Rev. Thaddeus Barttro officiated.
The Western Spirit, Paola, Miami County, Kansas
BARTTRO: (This is actually a composite of 2 similar obituaries on Jan 17, 1947)
Mrs Mary Cecelia Barttro of Burlington, Vt, mother of Rev. Thaddeus Barttro, died at Fanny Allen hospital there, Tuesday, January 14, 1947. She had been taken to the hospital the Sunday before, after she had fallen in her home and sustained a broken hip and wrist. According to a phone call received late Monday night, she was getting along fine, so the word of her death was a shock. Mrs Barttro was born Mary Cecelia Wells, September 14, 1866 and when 16 years of age was married to Eugene Barttro who died December 25, 1926, with the funeral held at St Joseph's in Burlington, Vt. Her only daughter, Mrs Mary Bacon, passed away October 17, 1942. Mrs Bacon visited in Paola in 1938, being here to attend Father Barttro's Silver Jubilee anniversary.
She is survived by Father Barttro and another son, William A. Barttro of Springfield, Mass, and six grandchildren. Father Barttro left immediately to attend the funeral services which were held at St Joseph's church in Burlington, with Father Barttro celebrating the Requiem High Mass, assisted by the priests of the parish, at nine o'clock Saturday morning. Burial was in Burlington.

BARTTRO: Died March 15, 1956
Sister Mary Marieta Barttro, who belongs to the Mother Seton Order, Sisters of Charity, in New York, aunt of Father Thaddeus Barttro, died Tuesday evening at the Foundling Hospital in New York City. She had been a nun for sixty years.
The Western Spirit, Paola, Miami County, Kansas, September 19, 1966

Rev. Thaddeus Barttro, 82, died September 15, 1966 at St. Margaret Hospital, Kansas City, Kansas. Father Barttro had been a patient in St. Margaret the past two years. He was retired from his duties as priest of Holy Trinity Catholic Church October 9, 1956, and made his home at 202 South Castle.
Father Barttro was born in Randolph, Vt in 1884. He was reared in Randolph, attending grade and high schools there. After teaching for some time in the public schools of Braintree, Vt, he resumed his studies at St. Michaels College, Winooski Park, Vt, in St. Hyacinthe, Canada: the Grand Seminary, Lasalle University, in Montreal, Canada, and St. Bonaventure University, St. Bonaventure, NY.
In 1911, he graduated with a B.A. degree and took his theological course at St. Bonaventure's Seminary. On July 9, 1914, he was ordained by Bishop Charles Colton in the Cathedral of Buffalo, NY, for the Leavenworth Diocese. His first solemn High Mass was celebrated at Springfield, Vt , July 12, that same year. (This is where his parents were living at that time) The first assignment to which he was sent was in Kansas City with Monsignor McKenna at St. Thomas Parish. The following year in July, he became pastor at Waverly, with Homewood and Lapeer, missions.
Then he was appointed by Rt. Rev. John Ward D.D., pastor of Sacred Heart Church, Ottawa, Osage City, Scranton and Baldwin parishes. This was in 1918. For 16 years he continued serving there, until 1934, when the late Bishop Francis Johannes named Father Barttro pastor of Holy Trinity in Paola, succeeding Monsignor A. J. Domann. During his years as pastor of Holy Trinity Father Barttro redecorated the church, installed new light fixtures, a new tile floor in the sanctuary and the body of the church. He also purchased 3 additional lots south of the church for a school playground.
In September 1954, Father Barttro had a fall and was laid up for several months. For the next two years, he was assisted by Father Maurice Gardener, Father James Lysaught and Father Richard Wempt. Each remained a short time until appointed as administrator of a parish. Father Barttro recovered from his injuries, but found parish work increasingly more taxing. So on October 8 1956, at the age of 72, he retired to his private residence in Paola.
The good priest lived in his little cottage on Castle street and for the next 12 years continued to be interested in the many friends he had made at Holy Trinity parish in the 22 years he had served it. He especially "kept track" of the children he had baptised, and administered all the sacraments of the church to, and for many performed their marriage ceremonies, and began the cycle again of baptising their children. The story of Father Barttro's life is one of constant service.
Funeral services began with the instating of the body in Holy Trinity church Sunday afternoon at 3:30 pm. Members of the Knight's of Columbus formed a guard of honor until time for the services at 10:30 Monday morning. The parish rosary was recited at 7:30 Sunday evening.
The services began with all the clergy of the archdiocese chanting the offices of the dead. Archbishop Edward Hunkeler, archbishop of Kansas City in Kansas, chanted the Pontifical Requiem High Mass with Rev. Sylvester Weathan of Westphalia as deacon. Sub-deacon was Rev. John Harrington of Greely, Rev. Robert Berger of Ottawa, and Rev. Frank Sheppers of Wea were deacons of honor. Rev. Stanley J. Loncaric of Sacred heart parish in Kansas City, Kansas, preached the sermon, and Rev. Patrick Hogan of Holy Trinity parish was the Arch. Priest. Pall bearers were Charles Butel Jr., Thomas L. Buchman, James H. Clemens, Charles Lawrence, S. A. McGreevy, Harold Scherman, L.M. Schwartz and N. H. Winterschied. Burial was in Holy Cross Cemetery under the direction of the Wilson and Son Funeral Home.
NOTE: In Holy Cross cemetery there is a center circle with a large stone in the shape of a crucifix. Nearby is a stone that reads; REV. THADDEUS BARTTRO 1884-1966.